Qube - the Harlow College VLE
Student Discount Offers
Student Discount Offers
KING DU

King Du Noodle Bar gives students 10% discount on Tuesdays on production of a Harlow College pass.
Please note that there needs to be 1 card shown for every 4 people (i.e. for 8 people there needs to be 2 cards shown)
Huge discounts for College staff and students
See Brochure for details
GO OUTDOORS

Go Outdoors is based at Princes Gate Retail Park, Howard Way, Harlow, CM20 2SU and supply everything you need from clothing through to cycling, fishing and camping equipment and a lot more for exploring the 'great outdoors'. To get the discount show your Student pass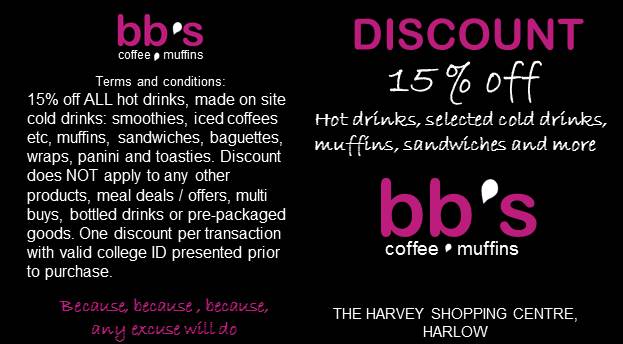 SUBWAY
Harlow Town Centre Subway offers a 10% discount to all staff and students on production of their ID card.
Please note - this discount cannot be used in conjunction with any other offers (ie their meal deals) and cannot be used in any other of their stores.
LIGHTING DIRECT

Enter the discount code NUS010 (letters in uppercase) at the point of payment
Raj Lodge 38 High Street Old Harlow Essex CM17 0DW
The Raj Lodge offers 20% discount on the full menu (both eat in and takeaway) for all Staff and Students
on production of their Harlow College Staff / Student card
Last modified: Monday, 7 September 2020, 5:46 PM