Qube - the Harlow College VLE
Student Discount Offers

King Du Noodle Bar gives students 10% discount on Tuesdays on production of a Harlow College pass.
Please note that there needs to be 1 card shown for every 4 people (i.e. for 8 people there needs to be 2 cards shown)
Huge discounts for College staff and students
See Brochure for details

Go Outdoors is based at Princes Gate Retail Park, Howard Way, Harlow, CM20 2SU and supply everything you need from clothing through to cycling, fishing and camping equipment and a lot more for exploring the 'great outdoors'. To get the discount show your Student pass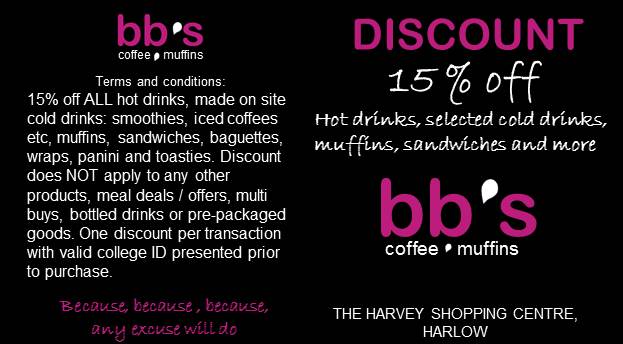 Harlow Town Centre Subway offers a 10% discount to all staff and students on production of their ID card.
Please note - this discount cannot be used in conjunction with any other offers (ie their meal deals) and cannot be used in any other of their stores.

Enter the discount code NUS010 (letters in uppercase) at the point of payment
Apple Special Education Pricing for ALL staff and students of Harlow College
1. Open your Internet browser (safari/firefox/Internet Explorer) while connected to the College Network (This will not work from any connection outside Harlow College)
2. Visit http://store.apple.com/uk
3. Click on Education Store on the left hand side
4. A new windows will appear: click Select your University
5. A new windows will appear:select Eastern from the region field, and Harlow College from the Choose your University field.
The Education Store works just as the Public Apple Store does, you select which items you want they go into a basket and at check-out you are asked for YOUR Apple account details. The details at the checkout are not linked to the college - they are personal

Raj Lodge 38 High Street Old Harlow Essex CM17 0DW




The Raj Lodge offers 20% discount on the full menu (both eat in and takeaway) for all Staff and Students on production of their Harlow College Staff / Student card
Last modified: Friday, 9 November 2018, 3:19 PM